The iPSC-Derived Cell Therapies Summit has arrived as the first meeting to exclusively focus on broad applicability of iPSCs, advances in novel gene engineering approaches, and translational lessons learned to advance your pipeline to clinical success.
Join over 80+ experts from pharma, biotech and leading academia in December 2021, to be part of the mission to innovate the next generation of safe, scalable and cost-effective iPSC-derived therapies.
Download the full event guide below and join the cell therapy revolution!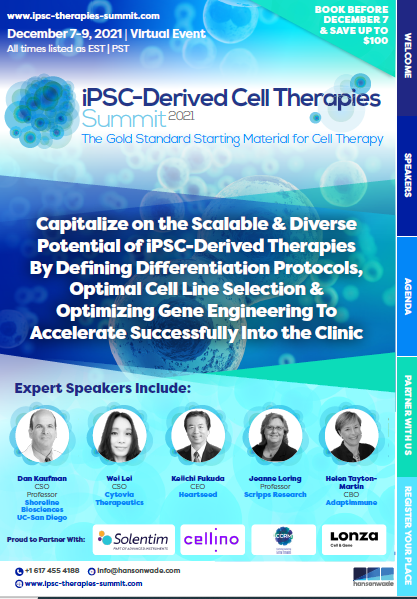 Gain insight into the strategic decision making of

Adaptimmune, Kite Pharma,

&

Cytovia

to discover why iPSCs have become a priority cell starting source and their future plans for portfolio growth
Explore the latest clinical trial case studies to show true safety, efficacy and understand how to navigate the regulatory landscape to gain approval for an iPSC-derived product with

Cynata

&

NIH

Uncover methods for producing iPSCs in a xenofree environment to develop optimal cell lines with Notch Therapeutics and discuss early manufacturing considerations with

Cartherics

&

BlueRock Therapeutics

to achieve scale up of off-the-shelf cell therapies
Optimize differentiation protocols and drive cell purity to unveil the full potential of iPSCs with

Stemson Therapeutics, HeartSeed

&

Umojja Biopharma

Supercharge genetic engineering of iPSC products for enhanced efficacy and potency with

Shoreline Bioscience

&

Exacis